PARENTS
Give your child an unfair advantage in IGCSE, GCSE or
O-Level Math
Over 2,000+ questions with instant feedback, step by step explanations and videos.
Get a guaranteed A / 7+ or your money back.
Try for free
Learn how it works
Have questions? Book a video call
Testimonials
Isla – Parent
"My daughter felt QuickSense massively improved her learning of maths. It was pleasing to see her confidence grow as she worked her way through the program. Would recommend it to anyone!"

Zak – Parent
"We thought the A guarantee was too good to be true, but the app really delivered, especially through the pandemic where we were worried out children would get left behind"
Anita – Parent
"I found this after talking to one of the other Mums. I spoke directly to one of the founders by booking a demo and was quite impressed - very well thought out program of study - I loved it. My daughter really enjoys doing it and I can see her becoming better with maths - I wish I had this in school"

Hannah – Parent
"Very good program that gets great results. Would recommend. It complemments private tutoring well, allows practice and feedback when the teacher or tutor are not there"
The perfect resource to help your child with maths
Passively watching videos or reading the textbook is a giant waste of time - you forget 75% of things you watch or read after one day.
Learn actively and remember more with QuickSense. Answer questions and get instant feedback.
We have over 2,000 questions (more added every week) which cover every part of the syllabus. Make the time spent studying actually productive.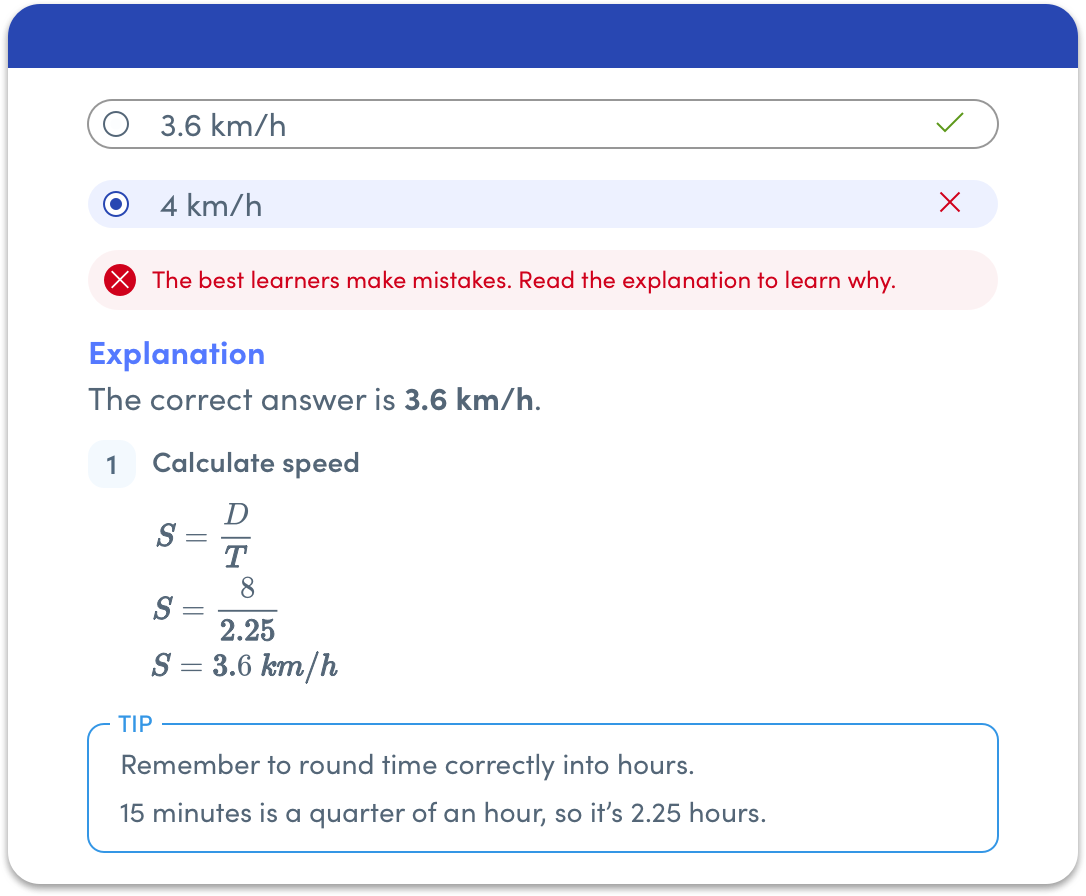 Instant feedback and step by step explanations
The best way to learn is to test yourself and learn from your mistakes. Every single one of our 2000+ questions has a step by step explanation that walks you through what to do, and how to do it.
Understand your gaps and know how to fix it.


Specific advice on the best way to answer exam questions
Highlighting of common mistakes people make
Tips on what the examiners are looking for
More effective and cheaper than a private tutor – guaranteed
Private tutors are expensive, costing 1,000s of dollars a year for – all of one hour of extra teaching per week.
Written by top teachers and educators with 20+ years of experience, QuickSense provides a personalised learning pathway to a guaranteed A – all for the cost of a few hours of tutoring.
As an option you can add 24/7 access these tutors to answer any questions.
Save your child hours by focusing on their strengths & weaknesses
QuickSense automatically personalises to your child's strenghts & weaknesses. We'll give them the right questions at the right time, to help them:
Master the concept
Remember it long-term
Build confidence before the exam
Increase your confidence by tracking how well you're child will do in the exam – giving them enough time to master what they don't know.